http://www.fungi.com/product-detail/product/host-defense-turkey-tail-extract-2-fluid-oz.html
Turkey Tail mushroom liquid extract…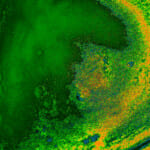 Pixlr edit: Open Image,In ADJUSTMENT: Invert, Solarize, Cross process, Color Look up(chose blue red theme)…Then in FILTER-Mimic HDR, Heat Map…
Picture cropped…Left breast, outside area…Flash, Macro, sony dsc-t100 8 megapixel camera…
Here is another BEFORE picture taken with an iPhone 6S…Same edit in Pi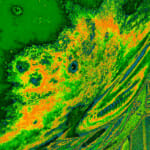 xlr…
8 dropperfuls taken of Turkey Tail Liquid Extract…at one time 3:57 pm Friday May 27, 2016…
8 more dropperfuls taken soon after…(I get bored…)
8 more dropperfuls soon after…(just to make sure I can see results!)
So…The next day, I did another picture…
Using this Pixlr edit process;
Pixlr edit: Open Image,In ADJUSTMENT: Invert, Solarize, Cross process, Color Look up(chose blue red theme)…Then in FILTER-Mimic HDR, Heat Map…
I am not impressed…I think possibly the extract is a low dilution…This means too much alcohol as compared to how many turkey tail mushrooms are crammed in there…
Picture looks worse, bigger…Lump is supposed to shrink…
I have ordered Turkey Tail mushroom powder, from Herbies Herbs in Toronto, & will continue taking pictures & editing to check progress…Here in this post…
Ok…So…I took the full bottle of liquid extract Turkey Tail mushroom the first 2 days…Lump got much bigger…I thought maybe it was the alcohol, so I switched to Turkey Tail mushroom powder…
I used a very generous amount of Turkey Tail mushroom powder( like 2 cups), & blended that into a drink…
I wanted to see effects right away…
I usually do this when starting something new, so I know right off the bat if it helps or it hurts…Saves me grief later…
Anyways…There was no need for before & after pictures…The lump in my left breast became enormous…Stayed that way for several days…Joseph palpated the lump & agreed it was much bigger…I checked manually too…The size change was obvious…
End of experiment…
I didn't continue further…
This was not at all the desired result…
As I had first suspected, the mushroom family is a Nitrogen element, which boosts stamina, grows neurons, makes you smarter…
Nitrogens are grains, glutens, oats, breads, pastas, crusts, but also various vegetables…
Nitrogens are highly useful for Down's Syndrome which is a Carbon excess…Arginine powder is made of Beets, & is great for Down's…Or just eat beets & beet juice…Makes you smarter…( not memory, smarts)…
But Nitrogens are repair feed heal types of things…They are not detox dissolve shrink tumour types of things…
I knew this but got swayed when an herbalist mentioned Turkey Tail mushrooms for dissolving a now benign tumour…
I got excited & pushed my own misgivings aside…
Oh well…
No real harm done…I am back on a stricter diet for the moment to shrink lump back down & it is…
On the upside, I do feel a little smarter…I developed this new Pixlr edit to track size of a lump or mass or tumour, & have been more engaged in my work…
I also discovered a Korean Red Ginseng drink that provides lots of Oxygen to my body ( as Ginseng will do), & does shrink things!
I also took a pile of my mum's Vitamin D3, just to get things back to normal a little faster…( Since I figured out how to do all 3 edits on my iPhone, I can stay at mum's house for visits & still help people to do their pictures in Fotoflexer, Lunapic, Pixlr…See the NIDI post for how to do your own Non Invasive Diagnostic Imaging)!
NIDI=Non Invasive Diagnostic Imaging…created by Sari Grove, artist!
Adding my answer to the question in the Comments:
"Yes…A benign lump can get bigger & smaller depending on what you eat, how much you eat, & how much exercise you get…
Taking the wrong supplement can also make it get bigger quickly-the Turkey Tail mushroom powder was really the wrong supplement!!!
Yes…I am on it…I go back to a raw plant based diet if I have had a problem…I exercise more…I use its opposite-so on the Grove Body Part Chart, opposite to Nitrogens(mushrooms) is carbons-oils…
So I drink a shot or two of whatever oil I have in the house-add some apple cider vinegar for taste…That deals better with glutens & Nitrogens…
Glutens(Nitrogen family) can make lumps big fast…Bread, pasta, rice…
So add a good amount of oil if you have had any…
or baking soda in water-baking soda is a carbon too…"
Comment:…I have known mushrooms were the wrong thing ever since I heard about them…They are Nitrogens which build neurons & stamina…Athletes use them…Mushrooms also boost testosterone…Chinese medicine loves mushrooms because they are always looking for testosterone boosters…I knew all this…Then I hired a Master herbalist who recommended Turkey Tail mushrooms…He used words like polysaccharide k…I was swayed because the other products he had sold me were so good…I read all the internet literature & ordered the best stuff…Took before pictures & edited them to see under the skin…The after picture was a disappointing much bigger…I thought maybe it was the alcohol in the liquid extract…Ordered turkey tail mushroom powder…That experiment ended rather quickly as the lump in my breast enlarged hugely right away, & below it started to feel something too…Definitely a dangerous thing! Went back to the literature & noticed much of it was people who had done mushrooms While doing Chemo…Even the owner of Fungi Perfecti , his story, was his mother did mushrooms During chemo…So it is more of a complementary thing to offset harsh chemo…an opposite…