Hmmm CORRECTION NEEDED HERE:
Update: Wed, Sept. 13th, 2017: was checking my notes on Ki-67 & found this post…Not sure why I had labelled it a Molybdenum marker???
Here is the correct version from my DIY cancer repair manual group on facebook…(yes you can join!)
"
https://www.spandidos-publications.com/ol/12/1/243/download Ok, so you don't have to read this…Just want to explain something…Ok, so most who were paying attention in class know that Calcium on my chart & in the imaging is the Pr+ progesterone marker…Phosphorus is the estrogen or Er+ marker…Hydrogen is the Her2+ marker…Now when you get those hormone results, if someone bothered to order the receptor test from the lab ( guess whose Doc forgot!), they may also give you a Ki-67 number which tells you how fast the thing may be growing…The medical sounding article I linked to talks about the correlation between Ki-67 & glucose…Translation:Ki-67 is measuring sugar…( that's my totally dumbed down simplified explanation of ki-67)…What that means is if your Ki-67 is high, then you got too much sugar in your body! Ki-67 being high means the tumour/parasite best, is reproducing fast! Ok so start eating raw garlic, cayenne pepper, mustards ( hot is better but Any is good), spicy things like sriracha sauce, colloidal silver, onions, chives, Cruciferous vegetables, antibiotics, quinine…Stop eating all sugar sources…!!! "

Immunochemistry found in the cells of a Pilocytic Astrocytoma...Gfap, synatophysin, P53, Ki-67...

Gfap glial fibrillation acidic protein= Nitrogens( testosterone)...antidote with Carbons: Senna tea...
Note:Nitrogens appear with Lead...

Ki-67 = Sugar...Treat with Raw garlic...( Selenium) Note: Sugars appear with Bismuth...Add Fluorines( Moringa Oleifera powder for right pineal, Listerine with fluoride cleans left pineal )( this is due to chirality...Natural spins left, The processed spins right- so natural affects left side of body & right side of brain)( & processed affect right side of body & left side of brain)...

P53 Lead in excess...Fix with (Zinc family) Ginger root...Note:Lead appears with Nitrogens...( Add Carbons)

Synaptophysin ,(Note: this information may need further research...
It appears I reversed some of these while writing out the information...temporary dyslexia...)sorryMolybdenum in excess...Small flowered willowherb tea ( Boron family) Note:Molybdenum appears with Calcium...( add Iodines)


associated Plus elements in excess to cells found…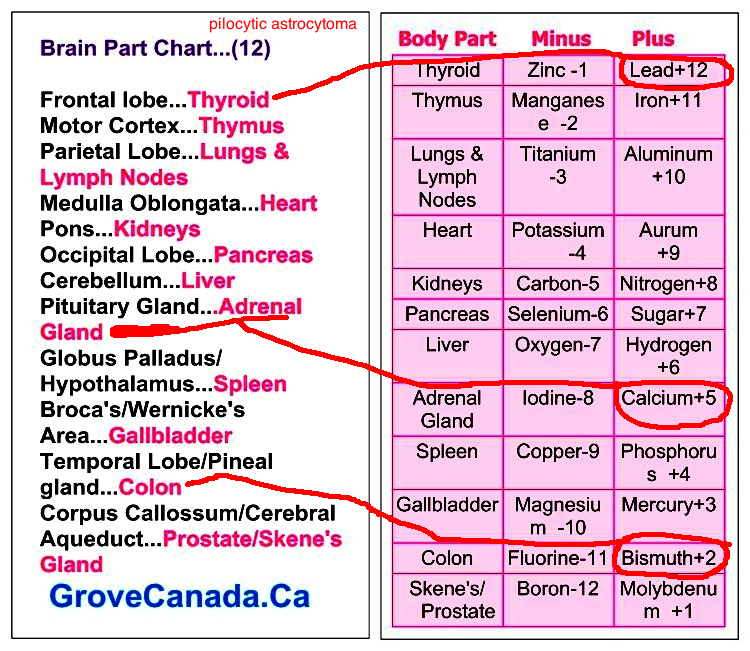 Note:Use corresponding MINUS element to remove PLUS element in excess…
Comment:So say they find cells in a biopsy & in the report, they mention them…
GFAP, Synatophysin, P53, Ki-67…
What does that mean?
How do you get rid of them?
Here is a translation…
Note:The Grove Body Part Chart shows 12 body parts…
Each body part has a Minus(detox or Yin), & a Plus(repair or Yang) element…
The cells they find are in excess, so PLUS elements…
Find the corresponding MINUS element to remove the excess…
Elements are families from the Periodic Table so there may be many choices in that family in the real world…
Choose the real world Minus element that you can get, can afford, can take, & possibly has been proven before like yesterday…
Note:Chinese/Japanese/Korean herbs & practitioners can be way cheaper than going to a Naturopath…
Get over the language issues & seek help if you need it…
Moxibustion with acupuncture can be done on the head & will affect the brain directly, if problems are in the brain…
& it feels good!
Gan Cao is Licorice root in Chinese & is tried & tested for cancer…
If you are wanting to lower estrogen specifically…