Negatively Charged Hydrogen water, 
was the thing that researchers discovered was the secret to,
the Hunza people,
living to 125 years old…
So they copied the elements in that water,
& turned it into a product you take while you drink water,
a pill,
& it makes that water have the same stuff in it as what the Hunza people drink…
So what does this mean in regards to our Grove Body Part Chart?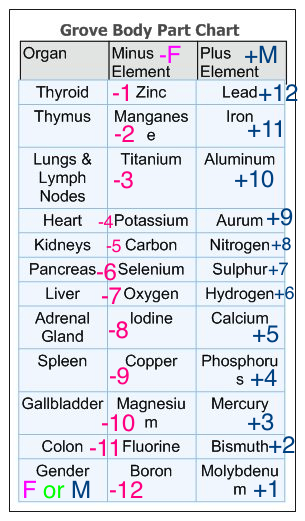 It means that the PLUS element HYDROGEN has a bunch of MINUS elements inside…
When I checked the ingredients quickly on the bottle a friend showed me,
I saw these Minus elements:
Zinc(in the form of Vitamin C)
Magnesium
Potassium
Sunflower Oil(which is Manganese & Carbon because sunflower seeds are a Manganese & Oils are Carbons)
So all those Minus elements on my chart made the normally positively charged Plus Element Hydrogen a negatively charged Hydrogen…
It was water with alot of Detox (minus elements detox)elements inside…
(Plus elements feed or nutrify)…
Oh, yes, & I forgot Oxygen, of course…
So that was neat hearing that story about the Hunza people & finding out that Valences & electrons in normal people language also can sync up to my Grove Body Part Chart theorem…
It is one thing to develop a theory, it is another to find out it really works!
Credit for the story goes to a person I met on my daily very far Nature walk…
Thanks Richard! (apologies for my brusque exit…It was a steep hill & you were not being superficial enough conversation-wise for climbing a hill…Etiquette Note:When climbing a hill with a companion stick to light superficial conversation that does not involve religion or politics…)
Note:Two negatively charged hydrogen water drink recipes that I drink are:
1)Take Frankincense(Frankincense is a Titanium element on our chart) resin ('Tears" they are called)…Put in a pitcher of water…Leave in fridge overnight…Drink the water the next day…(Nuke it & add Stevia(potassium), lemon(Zinc), cayenne pepper(selenium) for Frankincense tea)…
2)Get a bag of Iris Powder…It is an Oxygen…Blue Flag Iris is the name of the flower…Put a teaspoon in some water & stir…It doesn't really melt into the water, but you can still drink it that way…Iris powder helps to break up stones or hard things in the body…(like the famous stonebreaker "Chanca Piedra", which is also an Oxygen…)
3)Oh I have more than 2…Grind some Apricot kernels(Oxygen) in a hand grind coffee grinder…if you use a non-electric grinder then you get all that arm exercise grinding…Put your grinds into some orange juice(Zinc & Hydrogen)…drink that…(Apricot kernels are becoming a famous anti-cancer thing ever since a lady with breast cancer got rid of her tumours with 20-30 kernels a day…Combined with other things…But the kernels were key for her…)
(I also met Chris of DOGSLOVEWALKING.ca who had 2 self-confident white Westies, a warm & black & furry German Shepherd, & a smiling Bassenji in tow…)
The first lady dog walker I met we did not exchange names…But we did talk about airplanes & the ozone layer & what a nice day it was…(it really was)!(first above ZERO celsius day in a while for us all here in Toronto)! Oh & that with Global warming comes an equal & opposite reaction, Global Cooling…So it's really hot in France in summer, too hot, & then it's really freezing cold in Toronto…
Equal & Opposite reactions…We better patch up that Ozone layer before us canadians freeze to death up here!
& thoughts on cottage cheese…
Ok, so in a recent post I said I did not like the Budwig diet because of the presence of cottage cheese which is a Phosphorus & as such, an estrogen stimulator, or estrogenic…Also that most lumps are Calcium Phosphate & Cottage cheese is a Phosphorus so that is wrong…Also my lump got way bigger after eating some cottage cheese, so I knew it was wrong…
However…
In a another post I wrote this morning early, I investigated Triple negative breast cancer(or any cancer for that matter) & what this triple negative thing means…
Now when I think about it, Johanna Budwig was doing her research in the 1950s before the current onset of all the birth control drugs turned into this Cancer plague thing we see today…Todays cancers for the most part are made of the same stuff birth control drugs are made of-Calcium & Phosphorus…Which is why eating a Phosphorus like cottage cheese is so wrong…
But back when Johanna Budwig was trying to fix Cancer, she wasn't looking at people with birth control drug problems…The whole Calcium Phosphate thing with Liver involvement we today…
She was looking at an earlier subset of Cancer…Those people who today get stuck in the triple negative pile which means their Cancer does not respond to normal chemo treatment that addresses the common cancers…
The triple negative people don't have Calcium, Phosphorus or Hydrogen to detox from in their tumors…(those are the 3 markers they look at)…
Those triple negative people have an excess, in an organ, but that excess is dominated by different elements…Maybe Iron which responds to Manganese(flaxseed oil)…Maybe Aluminum(cholesterol) which responds to Titanium(CBD oils)…Maybe Lead which responds to Zinc(like Vitamin C)…
Since the Budwig diet includes Flaxseed oil mixed in with Cottage cheese, as a regular thing, we can see the die is addressing people with:
High Iron:Flaxseed(Linseed to some) is a Manganese thing
High Nitrogen:The Oil in the Flaxseed oil is a Carbon
High Copper:The Cottage cheese addresses high Copper levels…
So the people she was seeing had excess Iron,
excess Nitrogen(glutens fall into Nitrogen like eating too much bread),
& unusually those people had high Copper, or why else would she include the Phosphorus cottage cheese…
Now, I did not live in Germany in the 1950s so I have no idea what people ate back then, but apparently it was something that was high Iron, high Nitrogen, high Copper…
Maybe people ate meat, bread & coffee alot?
Long story short, I'd like to apologize for dissing the cottage cheese eaters…There are a myriad of people out there in this world & I do not know all of them…If their particular Cancer is not fed by Phosphorus, & they have high Copper levels, then the cottage cheese idea might work for them…I'd venture those are the Triple Negative people…
*if you aren't a triple negative then there is Phosphorus in your lump & I still lean towards avoiding cottage cheese, kefir, & Milk & yogurt & calcium & moldy places(phosphorus is mold) or things…
But I am more willing to have an open mind…
I know there are a few rare people with Wilson's disease(too much Copper), who got Liver cancer(Hydrogen excess)-so that is something I didn't think could happen…(it is VERY rare though…Rare enough to know that Copper is a great anti-cancer thing!!!)
Also…A totally benign lump is just usually Calcium Oxalate…No Phosphorus…So those people could maybe eat Phosphorus estrogenic cottage cheese with impunity!
Tuesday March 10, 2015 update to this post:
First, I re-thought how the numbers could go on the new improved Grove Body Part Chart:
Here is a pdf file you could download of it to keep for yourself…New Grove Body Part Chart
Here is how it looks:So…
I put the numbers for each element in a different way than before…Let me explain…
The MINUS elements get stronger as you go down the page…So ZINC is just a MINUS ONE or -1 strength, but if you go down to Boron at the bottom, the strongest Minus element on the Chart, it is a Minus 12, or -12…
Now the Plus elements are the opposite…LEAD is at the top of the page & is the STRONGEST PLUS element…So I gave Lead the biggest Plus number +12…As you get to the bottom of the page, the weakest Plus element is Molybdenum Mo, so I assigned that the number +1, a low number…
Remember: Each body part(there are 12 body parts on the chart) contains 2 elements that live together as opposites…
Which means that in each organ, there is a Minus element & a Plus element…
Now back to Cottage cheese with Flaxseed oil…
If cottage cheese is Phosphorus then the number for Phosphorus on the chart is +4
If Flaxseed oil is both Manganese for the Flaxseed, so the number -2, but also Carbon for the oil is -5,
Then cottage cheese with flaxseed oil would be: +4, -2, -5
If we add & subtract those numbers the total value we are left with is +4 -2 -5= -3
So our morning Flaxseed Oil with Cottage cheese mixture might be MINUS THREE -3 in terms of the Valence of the energy…
Valence means is it detoxifying(a Minus number), or is it Feeding(a Plus number)…
So we are then DETOXING the body at a rate of MINUS 3
So that is actually pretty good…IF I HAVE ASSIGNED MY NUMBERS CORRECTLY ON THE GROVE BODY PART CHART…AND IF, THE COTTAGE CHEESE & THE FLAXSEED OIL ACT AS ONE UNIT, MEANING THEY ARE BLENDED TOGETHER SO WELL THAT THEY DO SERVE TO CANCEL EACH OTHER OUT, OTHERWISE THE COTTAGE CHEESE COULD FIND ONE SIDE OF YOUR TUMOR AND MAKE IT BIGGER, & THEN THE FLAXSEED OIL COULD CARVE INTO THE OTHER SIDE MAKING A DENT, THEN YOU HAVE GROWTH ON ONE SIDE & A HOLE ON THE OTHER…The problem with that is that growth, due to the cottage cheese landing by itself on one side of a tumor is dangerous-growth would be a straight PHOSPHORUS growth which is exactly what makes a tumour spread…
If we just ate the cottage cheese that is a Plus 5…
But the Flaxseed oil lowers that significantly…In fact it brings it to a MINUS Valence…
So maybe that is how the Budwig diet gets away with serving dairy…
I still think it's a dangerous proposition…As I still think any Kefir is dangerous too…Cheese, yogurt, milk, coconut milk(can be higher in calcium than cow milk), goat milk-all I consider dangerous when fighting cancer anywhere…
On the other hand, living dangerously is not something to be dismissed altogether!
WAbi Sabi is a Japanese principle in art of ephemerality, rust & decay…What that means is that laminating a hockey card might preserve it forever, but Wabi Sabi says don't do it because letting things biodegrade is a better choice, letting things wilt is better, decay is natural, Nature reclaims itself & let her, live & let live but also live & let die…(isn't that a James Bond movie title?)