This first picture is edited in iPhoto(DIY Thermogram)…Instructions are here…
This second photo is edited in Fotoflexer(online free program accessible to anybody)…Instructions are here…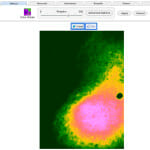 This third photo is from a post I wrote on May 11, 2015…The two photos above are from May 16, 2015(today)…Notice that the lump is much smaller in the more recent pictures…It is now round, as opposed to tear shaped…(the dot is a scar from a Moxibustion treatment I had way at the beginning…Interestingly, that scar has been very useful to me when evaluating my DIY Mammogram pictures…It provides size reference…It is hard to get exact size when shooting on Macro, because your distance varies a little in each photo, making your lump look much bigger or smaller, with even a tiny bit of difference…But where that scar mark is, is on my skin…So I can see in reference to that mark, if the lump is bigger or smaller…(I also cowboy it, or intuit, or whatever it is called when you eyeball a measurement…)I will look for apps or programs to help with true measure, & will post when I find a better way!
Also Notice:In the second photo(as compared to the third photo), the chemistry of the lump is far more simple…Fewer colours…Most noticeably, the most white(very light pink area) is almost gone in photo 2…I had called that very light area "Iron"…I have noticed that when I exercise alot, I burn off Iron…May 14 was a giant birthday extravaganza for my mother…It was a huge success but alot of work & getting up very early(5:30 am)…I got so much exercise that I must have burned off all that Iron in my lump…Great!
More noticing:In Photo 2, I still see that darker pink colour, which I call Hydrogen…Hydrogen is a sign of many things including necrosis, Pneumonia, the common cold, could be Herpes, Shingles, Chronic Fatigue syndrome, Liver wetness…Hydrogen is found in water & alcohol(more) & other liquids…You antidote Hydrogen with Oxygen…Oxygens are Goji berries, Milk thistle, dandelion greens, Apricot kernels(the inner hulled nut of an apricot, you can buy bags of these at health stores-eat up to 30 a day max for anticancer treament), Arsenicum Album 200c homeopathic is also an Oxygen…
**(i've been chewing & swallowing Apricot kernels because they shrink my lump always!)
A Comment about the Shingles vaccine:People with compromised immune systems can be more likely to get Shingles which is in the herpes, Chicken pox, Epstein-Barr virus, mononucleosis family…It is WILDLY painful…Starts with severe pain then 3 days later you get a weird rash that is in a roof shingles type pattern, hence maybe the name…I am not a huge proponent of vaccines, having gotten sick from a flu shot, having gotten very sick from a tetanus shot at Harvard which sent me home & dropping out of university for a while, BUT…I DID get the Shingles vaccine, & it made me feel Better, not worse…I got this shot because I was caring for someone who had very very painful Shingles, & after about 3 weeks I was starting to have on & off symptoms…Lethargy…Pain that came & went…I was scared…
To get this one in a lifetime shot, I went to the Rexall store at Eglinton near Bathurst in Toronto…Went into the walk-in clinic, saw the lady doctor(she's there on Fridays), & got the prescription…Then went to the pharmacy counter where they filled the prescription(15 minutes)…It cost $224.00 Canadian currency…(yeah, a whole lot!)…Then, went back to the lady doctor who gave me the shot(very tiny needle)…5 minutes later, I could feel it in my system, & I actually started to feel better…You are NOT supposed to get the shot if you already have shingles…I did NOT have shingles, but I had been feeling weird…So getting it at that point worked for me…(I also did NOT mention to the doctor, I had been feeling weird…They might refuse you if you tell them you feel sick…They refused someone else who tried to get the shot because he said he was feeling sick already…)
Ideas about that:I feel Shingles lives in the Liver…I feel antidotes to Shingles will be the Liver cleansing family…When the person who had Shingles took the Arsenicum Album pills (200C dosage homeopathic made by Boron), she felt better…Arsenic is just an Oxygen…Which tells me that my hunch was right…because Oxygen things clean the Liver…By the way, the seeds of apples & grapefruits & oranges all contain Oxygen too, if you chew them & swallow…Lemon seeds too! (no need to buy supplements, just chew your seeds!)…
Corrections maybe:Now that I look at the DIY Thermogram picture, I think I may re-evaluate the colour Yellow…
I had written in the picture above that yellow was an Aluminum…(Cholesterol)…But when I compare my newer Fotoflexer pictures, with my newer iPhoto pictures, I feel the Yellow looks more like CALCIUM…(Antagonize calcium with Iodine things like Kelp tincture, Vinpocetine pills, Iodoral tablets)…
What are other reasons why my lump shrunk between May 11, 2015 & May 16, 2015?
*before I start, I'd like to mention that this dumb DCIS lump has shrunk & gotten bigger back & forth, depending on what I eat & how much I exercise I get & what supplements & herbs I take…
Anyways…
I've been taking Amazing Foods greens Energy powder that has alot of plant caffeines in it…(Caffeines are Anticancer because they are Coppers which antagonize Phosphorus which is like mold & makes lumps malignant  spreadable)…
I took 2 x 50,000 IU Vitamin D3 pills because I was afraid I would not be able to stay awake for my Mum's birthday celebration which involved a long bus ride, many stops, work, & a car ride home, plus stress…You are only supposed to take ONE 50,000 IU Vitamin D3 per week…I took one on Tuesday & one on Wednesday…This could have been dangerous because too much Vitamin D3 can make you sort of manic or Bipolar…Antidote that kookyness by eating potatoes-they contain Lead(plombiumPb)which rebuilds bones…(I had a dish that included Poutine on Friday night-Poutine is a Quebec thing which is just potatoes with gravy & cheese curds…)
I had a very strong shot of espresso coffee on the morning of May 14…Made at Hotel Gelato on Eglinton(just east of the big Shopper's Drug Mart store, on the North side)…Espresso contains miles of Copper…
I've also been taking a Life brand supplement with apple cider vinegar(Zinc family), potassium & Boron(Copper family) inside…
Finished off my Butcher's broom supplements…(Oxygen family)…
Finished off my Grape seed extract supplements…Also Oxygen family…
Had been taking Frankincense(Boswellia extract) off & on…That's Titanium family on the Grove Body Part Chart…
I'd also been taking longer breaks between eating…Sort of short fasting…Not on purpose, it was just that where I was living, getting groceries was a little farther than just a walk…(you mostly had to drive)…
I had also taken a whole bunch of Wobenzym which contains what they Pancreatic enzymes…From chewing one of those tablets one day, I am pretty sure Pancreatic enzymes are mostly garlic mixed in with Papaya…Garlic is in the Selenium family which lowers blood sulphur/sugar levels in the Pancreas…Papaya would have Vitamin D & Vitamin C(Zinc family which lowers lead)…
But what do I really think was the driving force this week in the lump shrinkage & chemistry change?
Probably the extra high dose of the Vitamin D3…(you can get the 50,000 iu ones on Amazon)…
Another bonus of Vitamin D3 is I have found that it gets rid of toenail fungus…Toenail fungus is a sign of lead poisoning…Lithium drugs are in the Lead family, so if you take those as anti-psychotics, you may get toenail fungus…(which is why Vitamin D3 or even too much sunshine can make you Bipolar-Lead like in Bonemeal, potatoes or Lithium drugs, is opposite)…
New product that I think is the cat's pyjamas:My mum's friend's grandson has launched Two Bears Cold Brewed Coffee…Cold brewed coffee means they put the coffee beans into filtered water & let it steep for 12 or more hours…It makes a very very strong cold coffee that tastes naturally a little sweeter than the hot stuff…Strong coffee means more COPPER which means MORE ANTICANCER effects…Yay! (many new clinical trials about caffeine being anticancer)…Also-Cold coffee means your teeth don't stain as easily as they do with hot brewed coffee…Also, you can bring a cold brewed coffee anywhere in your bag & drink it whenever you feel sluggish…Us Canadians NEED our Coffee!!!
Art note: OENO Gallery in Prince Edward County is a destination gallery…That means you SHOULD drive to Prince Edward County from Toronto…It is possibly my new favorite gallery in Ontario…Their Sculpture Garden is magnificent…
(Cosmo Barranca of La Parete Gallery recently sold his gallery & his mailing list, so that gallery can no longer be my favorite, because Cosmo was sort of integral to that…Though the new owner, David Douse is showing promise-it is just too soon to tell whether the new La Parete will be great or not…)
Anyways…Prince Edward County is about 2-3 hours drive from Toronto & you absolutely should go there! (2 hours if you drive fast, 3 if you meander or get lost)…
Eat at the new DRAKE Devonshire hotel restaurant, the Cobb salad is marvellous as are the fish & chips…
We stayed at the MANSE boutique hotel which is exquisite…
(I have heard Isaiah & Tubs hotel in Picton is good too-& cheaper-plus you can have a wedding there!!!)…
*My friend, a geologist,stayed there & did Sand Dune Boarding which is like snowboarding but on sand dunes…The sandbanks in Prince Edward are famous…
Visit the Norman Hardie winery for a GREAT wine tasting & BUY wine to bring home, or make notes to buy that wine from your local LCBO Vintages store…I thought their Riesling was fantastic…Joseph likes their Pinot Noir which I would not kick out of bed for eating crumbs either…
Off topic:A new idea in the treatment of Chronic Fatigue Syndrome was discussed at lunch…Apparently though many are bed ridden, they aren't really sleeping deeply enough…Adding a sleeping pill, even an over the counter one, or something like a marijuana joint puff or two which is in the same family as sleeping pills-you can also get marijuana in a pill(Titanium family) helps the chronic fatigued body to actually sleep & repair & restore itself…This is an out of the box idea that actually helped someone turn the corner back to health…
Fashion Notes:In the picture, & earlier that day, I wore fabulous stretchy outfits from Designs by Naomi on Cumberland street…Naomi is moving so everything in her store is 40% off, which is why I got 3 outfits FAST…
My shoes were from the NAOT store on Eglinton, in their basement everything is at least HALF price!!! (Naots are designed for Cobblestone roads, so they have awesome soles, but also stylish so you can walk to your fancy event…Plus mine had Velcro closures because I don't like buckles or laces…(cost $100 CDN)…
ParPar on St. Clair Avenue west of Bathurst, south side sells Hanky Panky thong underwear(comfy & because it is thong you don't get thigh red marks or yeast infections-it all down there breathes better when you wear thongs daily)…Plus, ParPar sells deconstructed bras which are just pull on, one size fits all, no underwire or anything constricting, plus they come with padded inserts so the unconstructed bra doesn't make you look flat!($25 thong panties, $25 excellent bras that don't constrict your chest but look good)…
Hair note:I cut & colour my hair myself…I cut with a shearer/clipper-sides & back get sheared shorter than the top(thanks to Voulez salon's Voula for that tip)…I get my colour from Cosmetic World at Yonge & Bloor-south, east side…You buy a tube of colour, then buy a bottle of hydrogen peroxide…With a plastic paint brush & plastic bowl, mix equal portions…Touch up roots whenever…No more wasted product for root touch up & costs like $10 every 3 months…(I know it is WAY cheaper than going to a salon colour)…
love Sari
p.s.this post might get updated or edited if I find any mistakes in it…All my Blog posts do…So be sure to reread posts in the future…
Saturday, May 16, 2015:
I have some leftover Iodoral tablets, Kelp tincture, & Vinpocetine pills-so I took all of them today because I have been neglecting my Iodine supplementation recently…Iodine is SO IMPORTANT to weight loss, breast cancer & other cancer detox, & birth control drug & heavy metal detoxification(which are similar protocols actually)…The reason I get slack about Iodine is because I was afraid it would throw me into early menopause…But recently(I am 48 years old now), my periods stopped…So it looks like that whole menopause thing has begun anyway…I am not sorry about that!(Still cannot understand how women can work that 3 days of the month?)…(Thank GOD I am self-employed)…So I can go back to taking Iodine more, which is great, because it really shrinks tumours well…
Anyone who attended my Mum's birthday or who has great pictures of my Mum & them together: Please send me all digital photo files so I can add them to the birthday movie… Send them to grove@sent.com (I'm Sari Grove, my married name, cause I married the best guy ever named Joseph Grove)…
Am looking into a great new supplement called MIROR EPF...It is for parasite cleansing I am looking at it…(many people who have pre-cancer situations actually have parasites & some people including myself believe that cancer is in fact a parasite…(Mine look like Salmonella parasites-Typhus)…I will post about Miror EPF when I try it…(has Clove oil, mint oil, thyme oil, rosemary oil & other great anti-parasitic things inside-plus it is in tincture form which is usually the strongest way to get something in you & have it be absorbed well)…