So…Today I met someone who has Juvenile Diabetes…Onset at 25 years old…3 years ago…
I wanted to see if I could see diabetes in the DIY Imaging programs…
So I found a bikini picture of Halle Berry, a celebrity with diabetes…
Then I found a decent anatomy picture of where a Pancreas should be in the body…
I ran the Halle Berry picture through the Fotoflexer editor…(When you arrive on the grovecanada.ca blog, a popup message comes up…There is a link to the DIY Imaging instructions post from there…Go here to learn how…
Anyways…You can see what I can see…look at the shape in Halle Berry's belly…That's the Pancreas…
The colours represent different elements…
What stands out is the BLUE…BLUE is LEAD…Halle Berry's pancreas is FULL of LEAD…
Why? I don't know…But…If LEAD burden eventually triggers diabetes, then we know how to maybe prevent that, & also maybe how to start curing it…We need to remove Lead from the body…
A neat product called Fungus Shield Plus might come in handy…Fungus feeds on Lead, so this herbal supplement is designed the right way…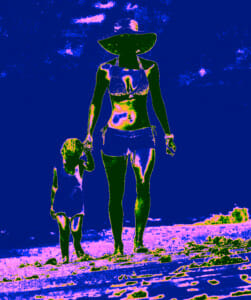 More:

So…Many people mentioned that Halle Berry's pancreas was too far to the right…So I checked Nick Jonas' pancreas-his was too far down the belly…
So then I checked the incidence of DISPLACED PANCREAS in the general population, about 10%…It appears that people with Type 1 diabetes, formerly called Juvenile Diabetes, all have Pancreas's that are in a weird place…In the picture above, Mary Tyler Moore is in a bikini…
Her Pancreas is high & to the right as well-very strange place(Pancreas is supposed to sit more to the middle)…Mary Tyler Moore developed Type 1 diabetes around the time of the Mary Tyler Moore show in 1977-ish…
She also liked alcohol which contains lots of LEAD in it, which would explain the BLUE colour of her Pancreas…Alcohol also contains lots of SUGAR…
How many people suffer some kind of physical trauma that dislocates their Pancreas? Is this the true cause of Type 1 diabetes? Displaced pancreas?