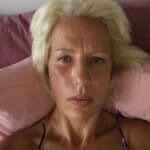 If you wonder why I am slow to answer again, um, well…( big swelling under right eye)
My mum does an annual giant family & friends picnic up at our farm…
We work like dogs( dogs that work!), to put it together…
The day of, we entertain the children in various ways- my job was hiking up the mountain to the forest to let them feed carrots to the horses…( also pond lifeguard duty and swim rescue)…( leading cars to park in horse paddock was also job- plus name tag help!)( heavy lifting, shucking corn/ slicing kernels off husks)!
On my seventh or eight hike up, a giant furry mostly black? Queen( I feel like our bees have been mating with wasps- colour changes!) bee landed near my eye, & as I brushed her furry body off my face, she stung me…
I now have an extra cheekbone!
Today I ended up resorting to drugs( after two days of spruce pine needle tea- pine needles are anti inflammatory) cause we were up in the country with no drugs or supplements even)…
I went to a pharmacy & took an Aerius antihistamine for the swelling,
then Fer-A-Sol liquid Iron sulfate( big chug) because bee stings lower Iron which causes shortness of breath & throat closing,
then I sprayed many sprays of B12 into my mouth because my blood pressure was dangerously low( after 15 minutes I tested it in the Rexall Pharmaplus store and the b12 kicked it back up a bit to safety)…
The doctor at the walk in clinic prescribed prednisone for three days , and I took one( but my mum said to skip the other two cause prednisone is dangerous & she is very non drug)…
I did drink a lot of liquid vitamin A last night as a corticosteroid substitute, hoping I could skip the drugs, but it wasn't enough…
Joseph ( husband) gave me some topical betamethasone, a topical corticosteroid, but it wasn't enough either…
Anyways..
I love bees & have been stung many times, so I feel like royalty having now been stung by a Queen Bee…
Note: The liquid iron is if you can't get epinephrine…Iron acts like epinephrine if you can't get an epi-pen…The Iron helped me to breathe better & my throat is much better now…
I had not been able to hold my breath very well when I went diving for the shade umbrella that fell into our pond…
My brother's new boy Sam needs the umbrella so he doesn't get too much sun…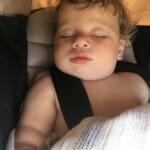 ps. Stories for later: The day the 5 horses got out & were on our front lawn cause my brother left the gate open! ( I used brown sugar lumps to lure them back!)
pps.The little goat whose head got stuck in the square shaped fence at our neighbours…Ended with me on top of the goat & my mum hysterically laughing at me !( picture:on a goat , face down,  in the mud!